Respect Covid-19 frontliners, adhere to your vaccine slots to avoid congestions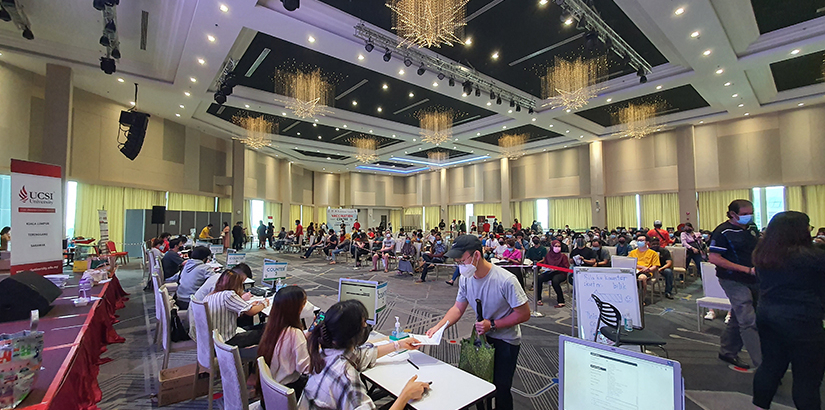 Our frontliners work tireless, some up to 12 hours a day, to help in the National Immunisation Programme
KUALA LUMPUR, July 13 – Members of the public are urged to follow the standard operating procedures set by the Ministry of Health at vaccination centres.
This is to ensure that there were no congestions, a smooth process from pre-vaccination to post-vaccination, and to the vaccine administration process.
UCSI Vaccination Centre stands firmly on dispelling claims from unverified sources aimed at accusing frontliners who had purportedly erred in their line of work or alleging vaccination centres for not having a system in place to carry out the immunisation programme.
To begin with, most delays are stemmed from recipients who did not follow their appointment slots as stated in their MySejahtera application.
Having a sudden influx of recipients at a given time is deemed to cause congestion, delays and this inevitably disrupts the flow of the vaccination process.
To make matters worse, some would use their mobile phones to capture the administering process, which not only is illegal, but can and have distracted nurses who dispense vaccine jabs daily.
At UCSI, frontliners inclusive of doctors, nurses, auxiliary police, and volunteers who are UCSI University's lecturers, administrative and management staff are not only well informed of the procedure of the vaccination process but have also adhered professionally to all guidelines.
They work tirelessly, some days up to 12 hours in a stretch, with little rest while fighting fatigue to support the good cause of the National Immunisation Programme.
As a responsible conglomerate, UCSI and its staff have placed the priority of the nation first to ensure the national plan to inoculate everyone is done accordingly.
The management wishes to thank most of the vaccine recipients who have cooperated patiently with full understanding in this fight to achieve herd immunity.
Let us do our part to keep each other safe. The fight is with Covid-19. Not each other.
#KitaJagaKita
#MenangBersama
#LindungDiriLindungSemua